The SAG awards was held on Saturday night, 18th January, but I couldn't wait up to watch it live, thank god for PVR. I refused to read or check any information on it, until I watched it myself. I like the SAGS because, the votes are by the actors themselves and it seems more authentic, after all, who better to judge a craft, than by those that actually practice the craft.......or so to say. Anyway I watched the red carpet on E before I proceeded to watch the actual awards, and I like the red carpet. It's the closest I get to actually seeing the dresses, and you get a better view than the online pictures.
So, again, let's start with our "must see looks of the evening"
I must say, I'm glad Sandra Bullock is back on form. I didn't like her Golden globes outfit, but this is very nice. It's age appropriate, sexy, chic and elegant all at the same time. Love her hair and make up too.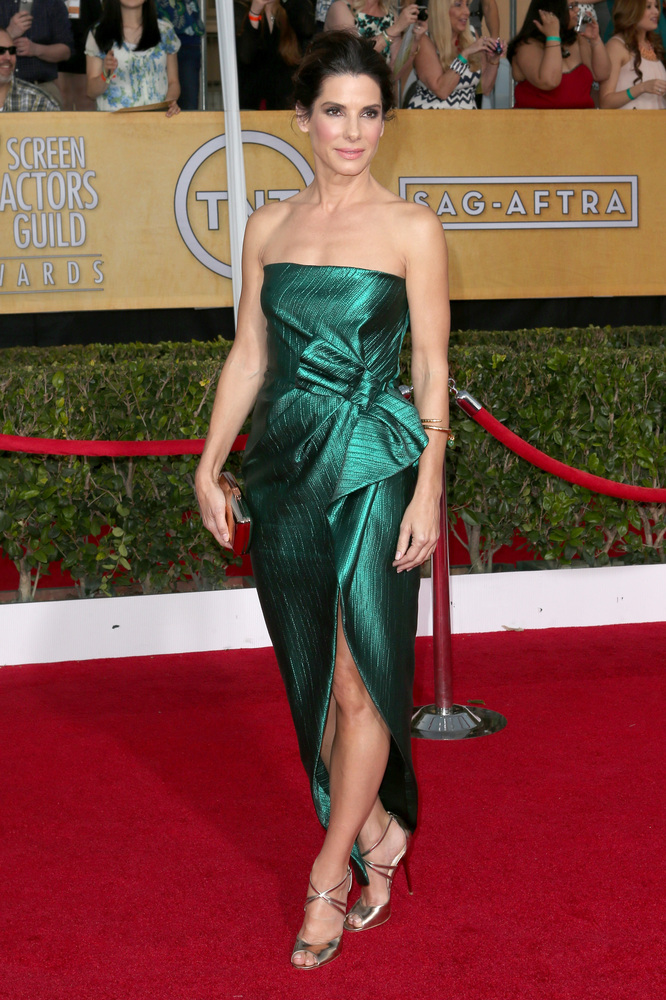 Sandra Bullock in Lavin and Fred Leighton
Lavin makes such elegant dresses
Now this is Perfection! Love the dress and the fit on her. Even her make up is perfect, it looked much better on TV than it photographs. I'm not a big fan of her Grace Jones hairstyle though, but I'm sure her stylists told her to keep it, critics love all that "ethnic" african vibe. Though to be frank, it does have a certain appeal to it.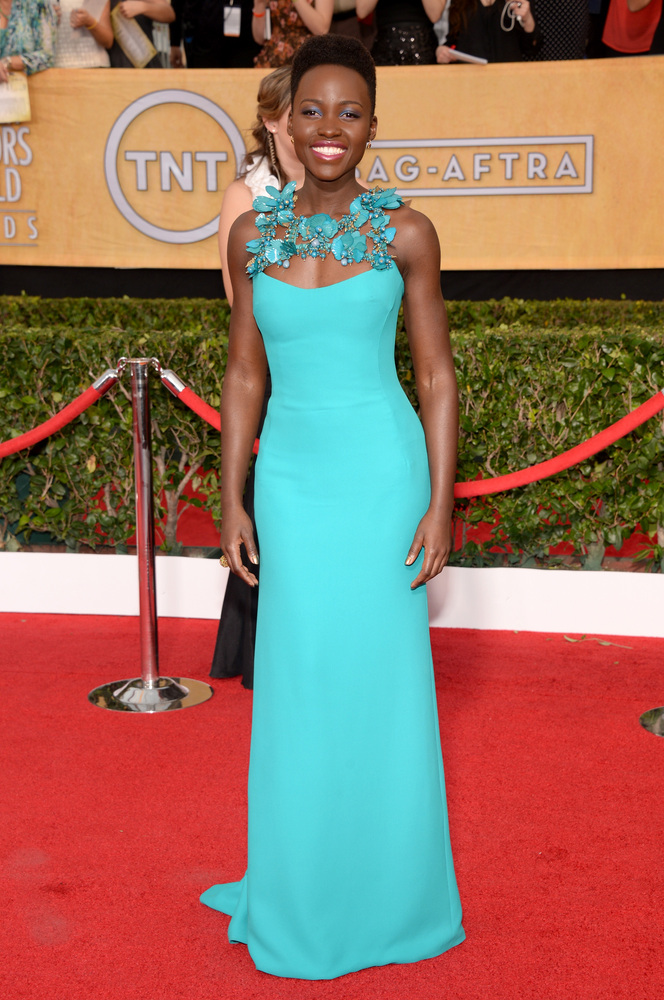 Lupita Nyong'o in Gucci
She certainly made up for that dracula cape fiasco she had on at the globes, in my opinion. Like I predicted, the fashion critics loved it (the cape that is), and she was best dressed according to Fashion Police (eyes rolling!) I'm sure she'll certainly be a best dressed nominee for the SAGS too.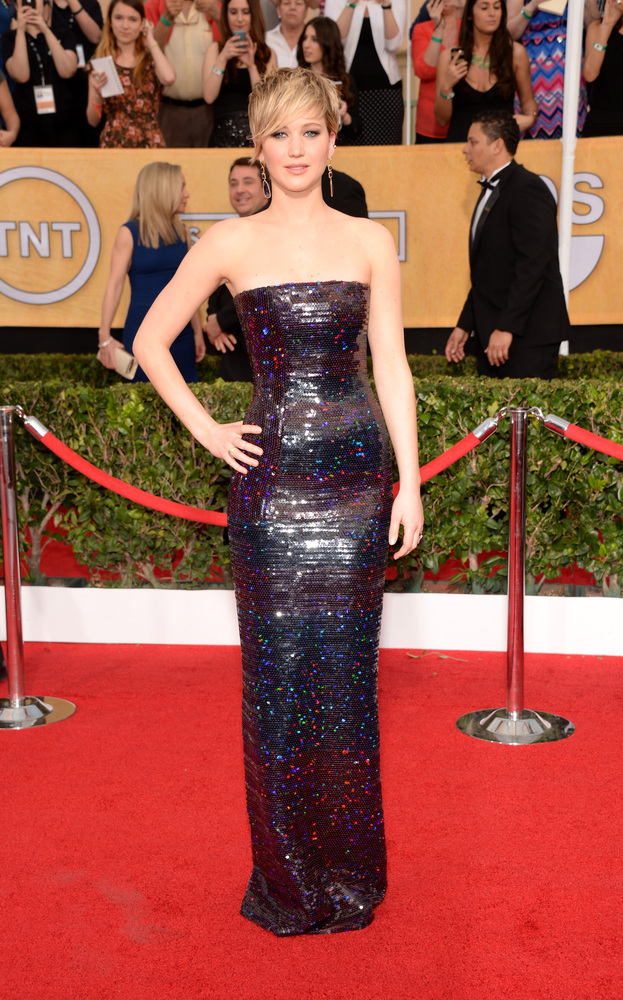 Jennifer Lawrence in Christian Dior
Hollywood's "IT" girl, can do no wrong. Again it's like they all took a lesson from their golden globes mistake. I like this dress, loved the earrings too, and the hair is fab. Only thing is, she seems to be joining the bandwagon of the super skinnies and it totally belies the image of the carefree, down to earth, non conformist girl she portrays.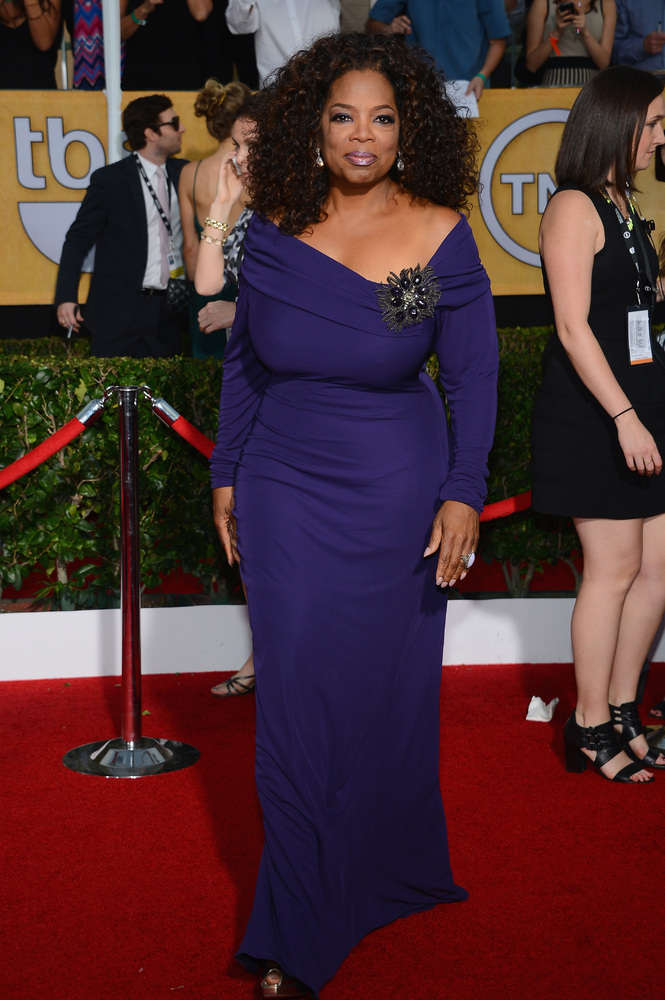 Oprah Winfrey in Badgley Mischka
Well I guess if you are worth over a billion dollars, the least you can do is dress well.......lol! Oprah looks good in this purple dress. I love the way it fits her body, she dresses the way I imagine she is in person......elegant, laid back confidence, cool and composed. I wasn't feeling the hair though. I didn't like the way it looked on the red carpet, a bit too wild and frizzy, though it looks great in the pictures.
I loved this dress on Camillla aka Mrs. McConaughey. The colour on her is so lovely and the drape of the gown, the fit, the style.......it's just beautiful. They do make a good looking couple.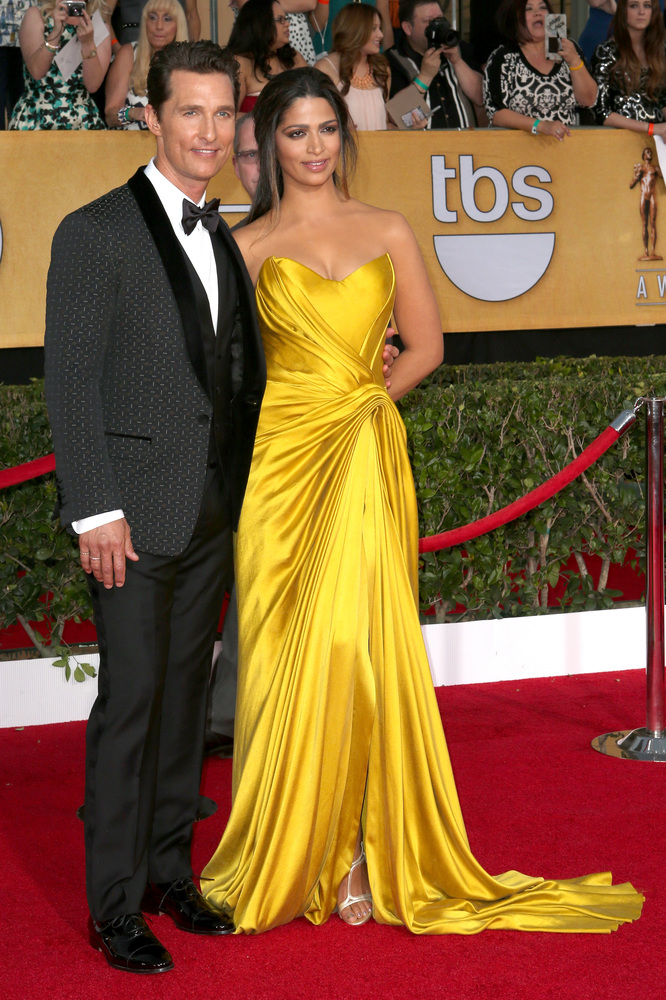 Camilla Alves in Donna Karan Atelier
Hannah Simone in Marchesa
I like this soft look by Hannah Simone, and everything is on point from her hair to the makeup.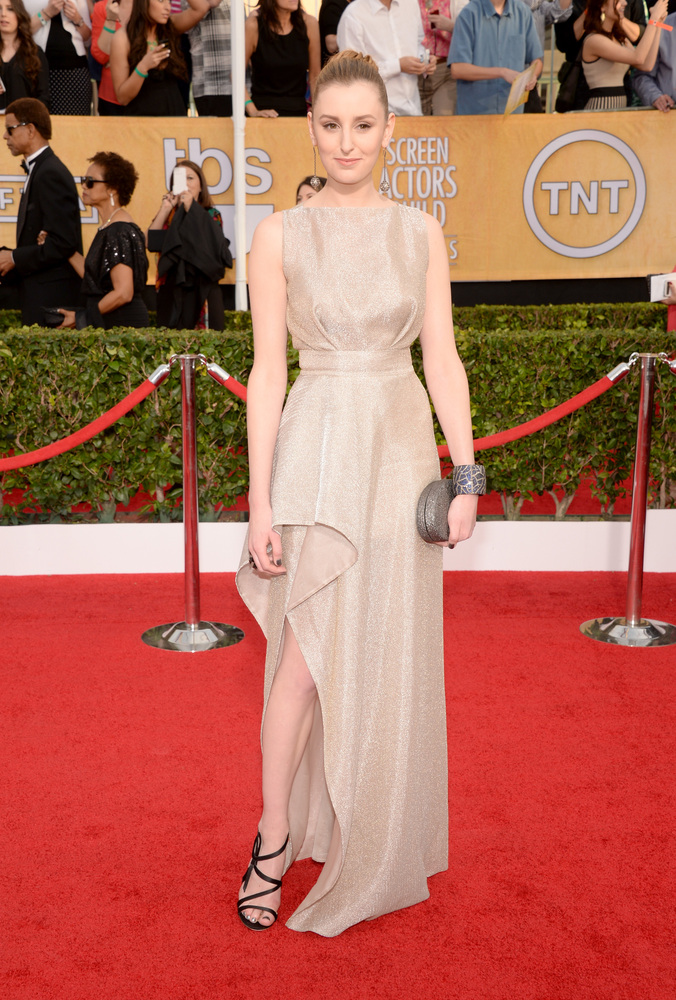 Laura Carmicheal in Jerome C. Rousseau
This is a good look. The dress is very nice and fits properly. I'm not feeling the shoes though.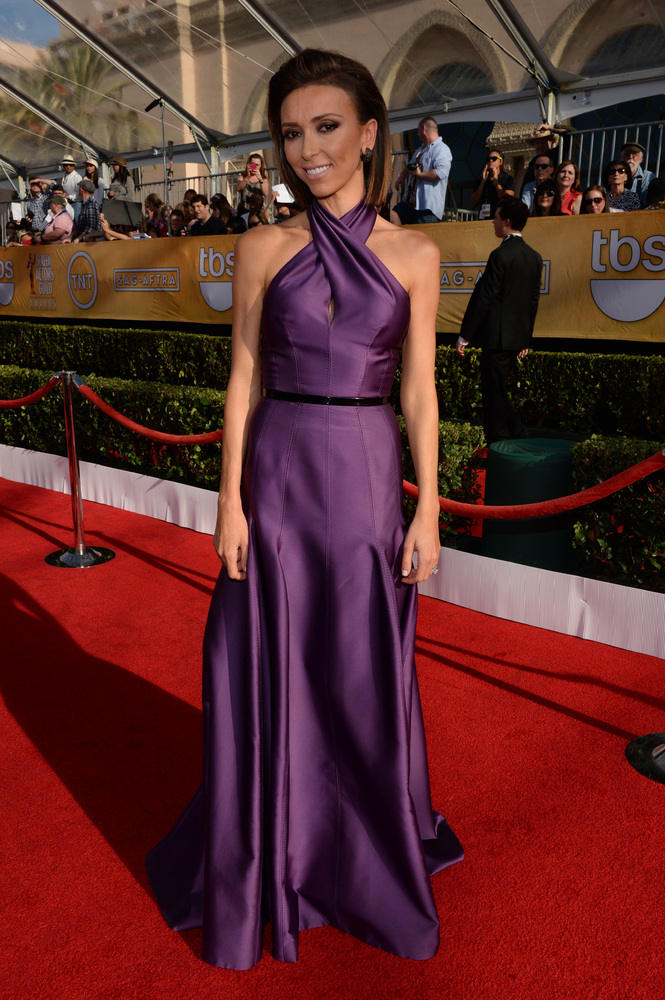 Guiliana Rancic in Basil Soda
I loved Guiliana in this dress, I think it's one of the best looks I've seen her in. I like her hair too. I wasnt too sure about the belt, I was thinking a pop of colour like yellow, orange, peach........though i think I'm just colour block obssessed and the black works just fine. If only Guiliana would eat some carbs, steak or something and put on just a bit more weight
.
Another look I'll term as "perfection".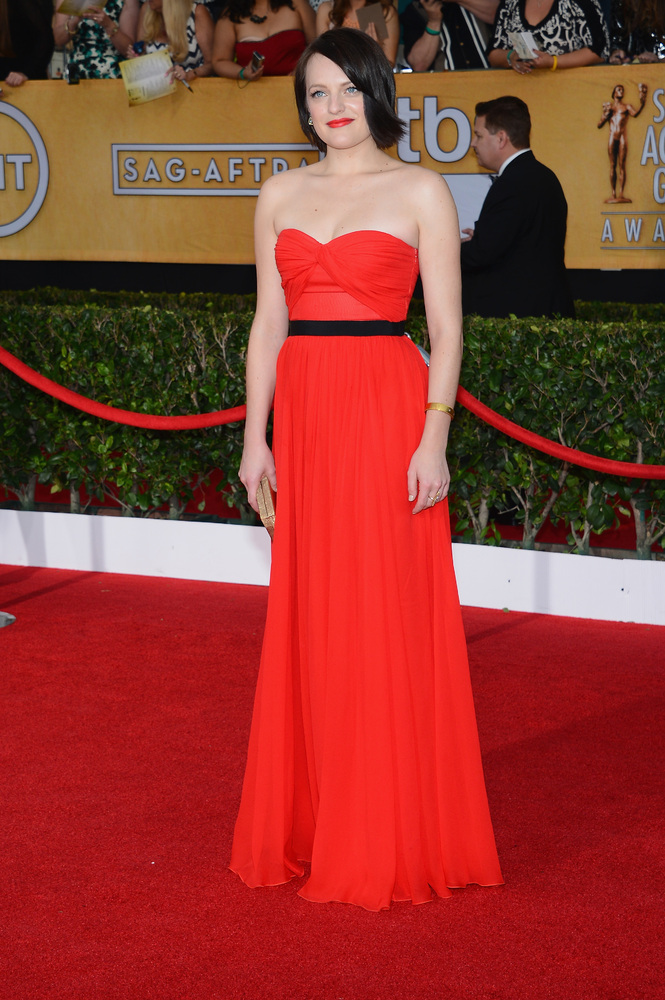 Elizabeth Moss in Michael Kors



For some reason I like this. I say that because I'm not a fan of cutout or one shoulder dresses. I usually dislike asym
metry in dress styles, but for some reason I'm liking this. Maybe it's the way it fits her and the whole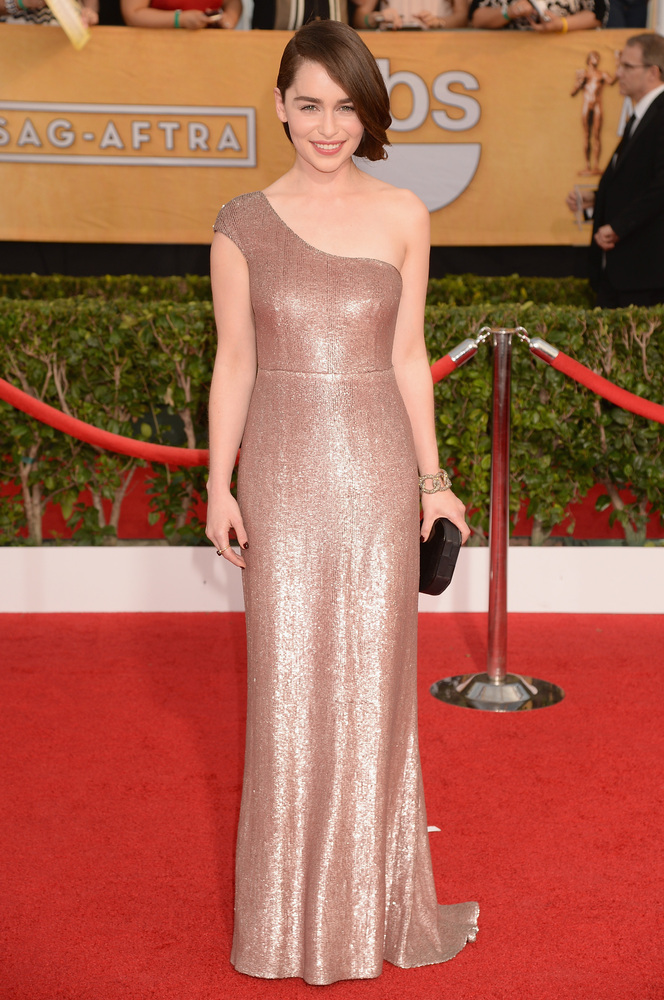 look seems so effortless. I also like the way she decided not to wear any necklace making the style of the dress the focal point, she does look way better with her dark tresses than the blonde wig she dons in "Game of thrones".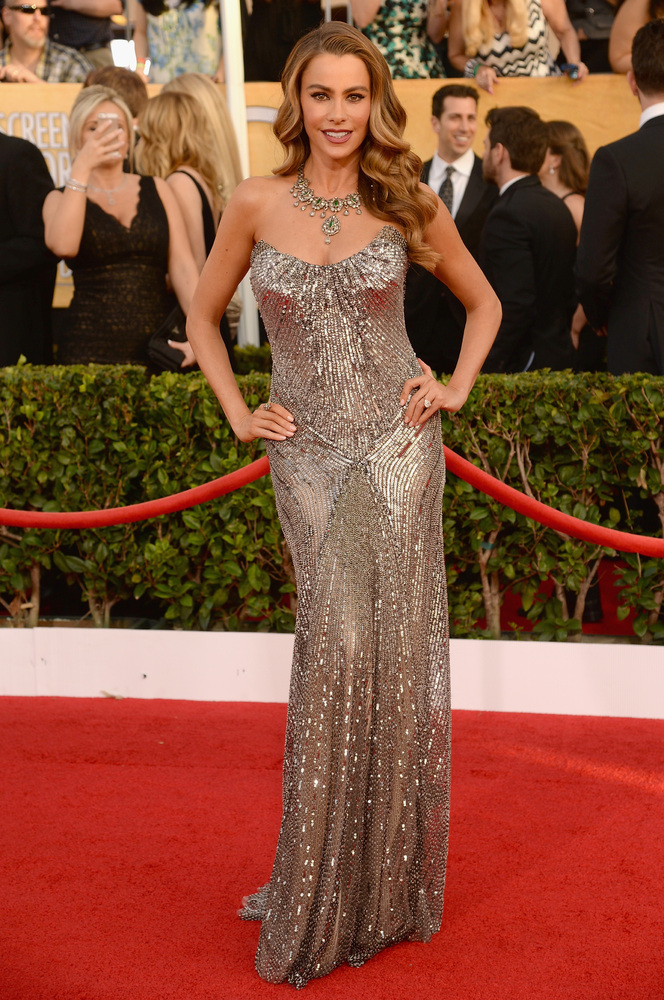 Sophia Vergara in Donna Karan Atelier
I say "if ain't broke....." about Sophia's style. She sticks to what she knows, and it works for her. I love the her hair and make up...... ......flawless!
FASHION STATEMENTS
I term these as "fashion statements" in the sense that I personally didn't really like them but sense they will get some sort of critical acclaim: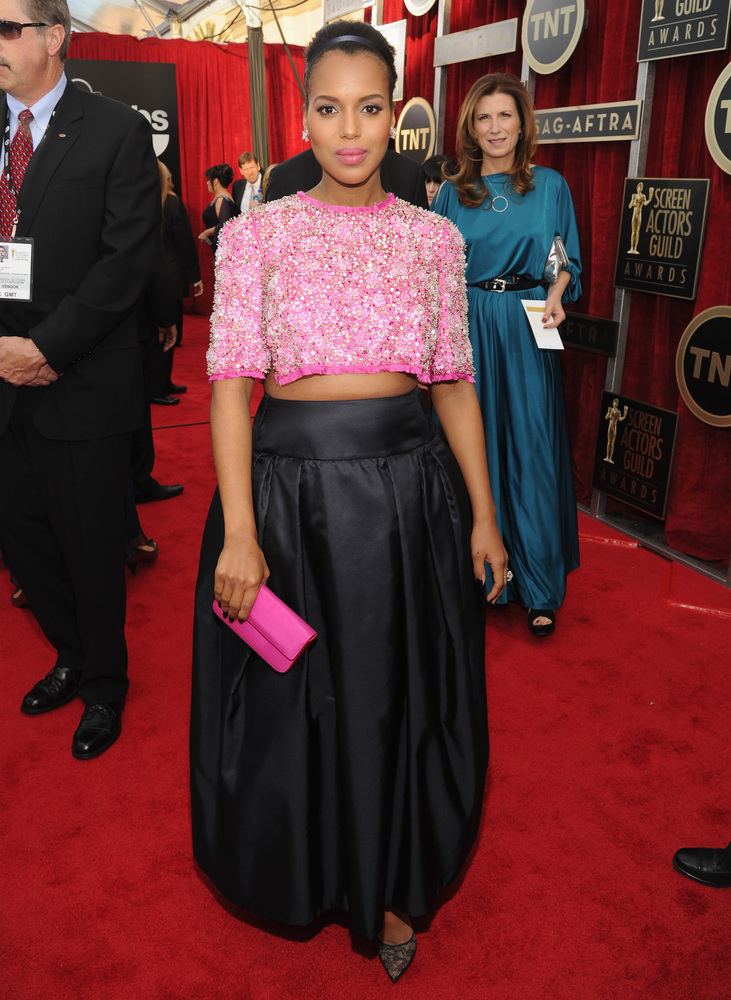 Kerry Washington in Prada.
Okay first I must say I've never joined the Kerry Washington band wagon. I don't watch "Scandal" (yeah, I said it), I'm not too convinced about her acting abilities (the way she talks is too distracting), and I'm not a fan of her fashion choices. Still having said that, there's a certain appeal to this ensemble, and I have to give it to her, it's really difficult to be pregnant and pull of a stomach baring outfit with elegance.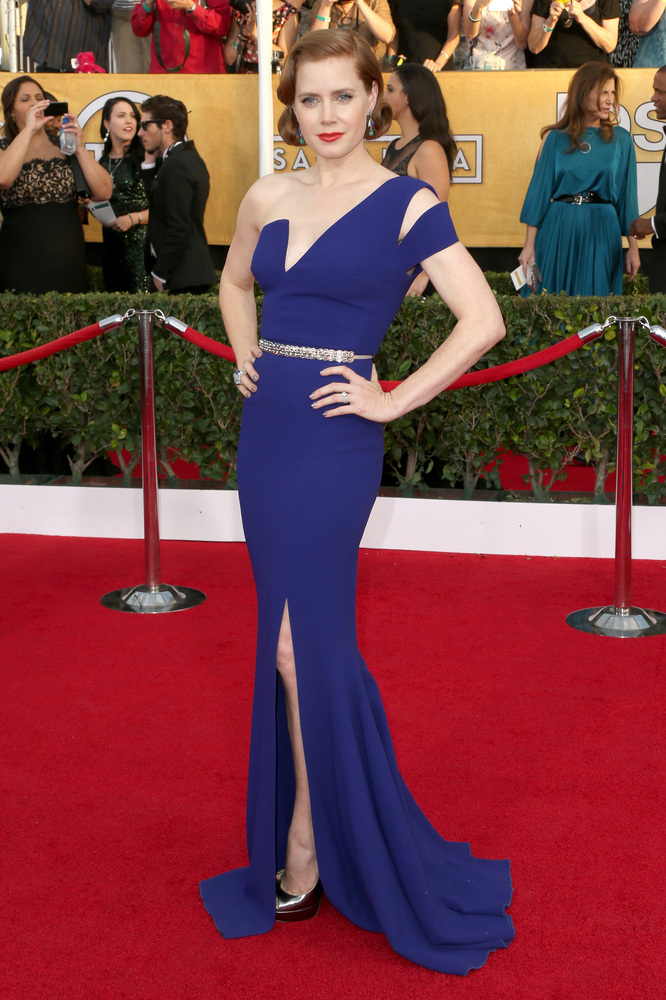 Amy Adams in Antonio Beradi
Now this is an actress I'm a fan of, and I have to admit she looks quite fab in this dress. I just don't like it personally, but I love the shoes and the earrings are fabulous ( I saw it on TV). I also like the way the belt, is the main accessory to the outfit.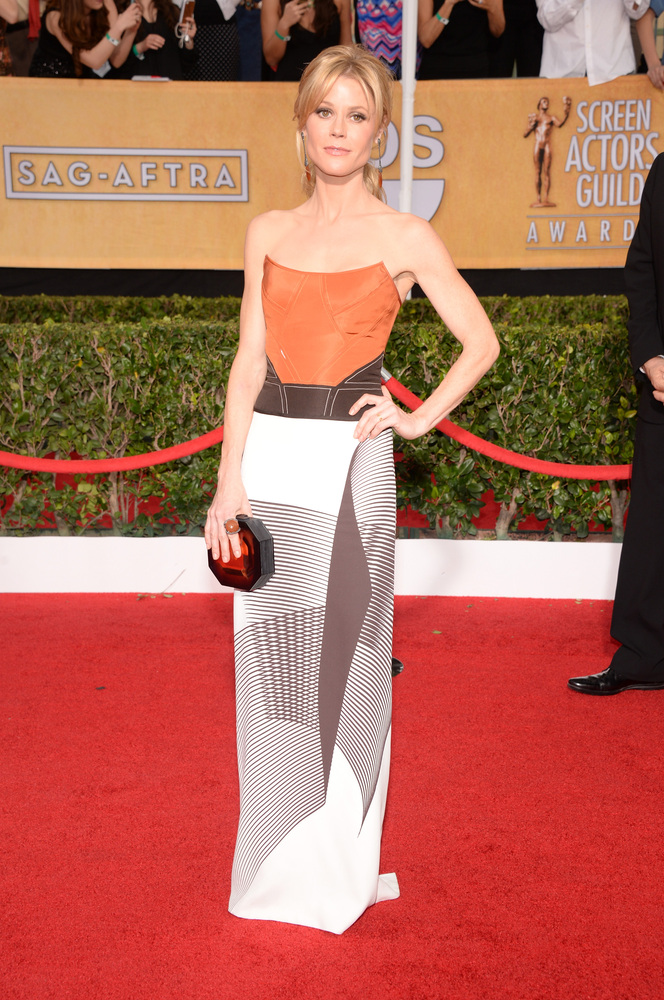 Julie Bowen in Caroline Herrara
Another dress I wasn't just crazy about, though I recognize it's rather edgy and all that. I do think maybe if it was on another actress.....Halle Berry maybe.......and it did look quite nice on the red carpet, it doesn't even photograph half as good as it looked.
Michelle Dockery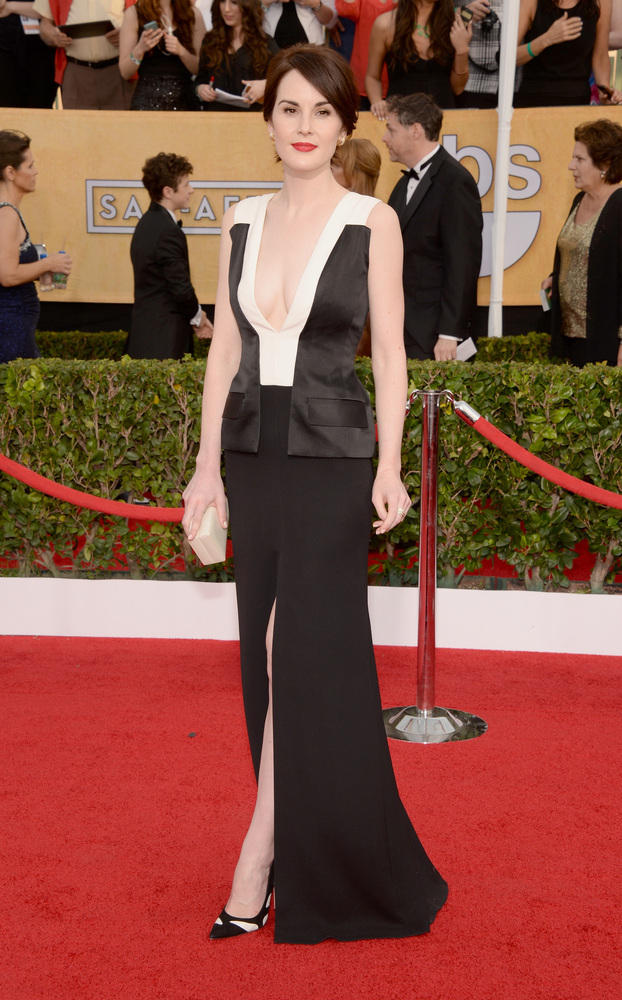 I'm a bit on the fence with Michelle Dockery's outfit. Is it a tux, a dress, skirt?? I sort of like it, and then I don't, then I'm not sure..........I think it's cool and edgy, then again I think she looks like a bartender........I just can't make up my mind!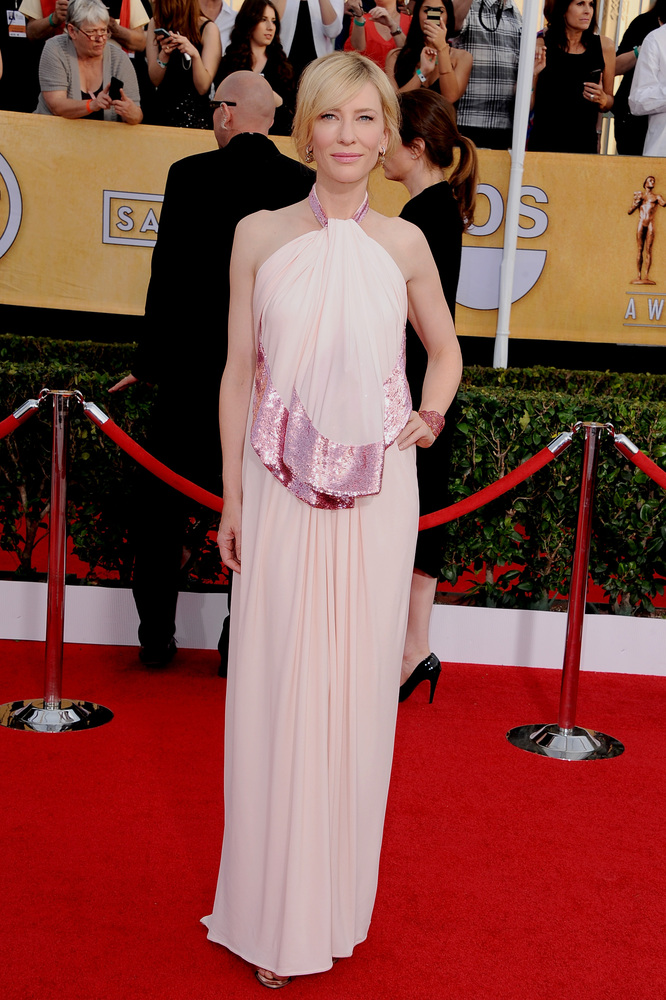 Cate Blanchett in Givenchy
Okay so I said last week in my golden globe review that Cate could wear a sack and still look elegant, and she took me up on it. How else does one explain this? and believe me this is the best angle. The sad thing is we are going to hear all the fashion aficionados exclaiming how gorgeous this outfit is on her.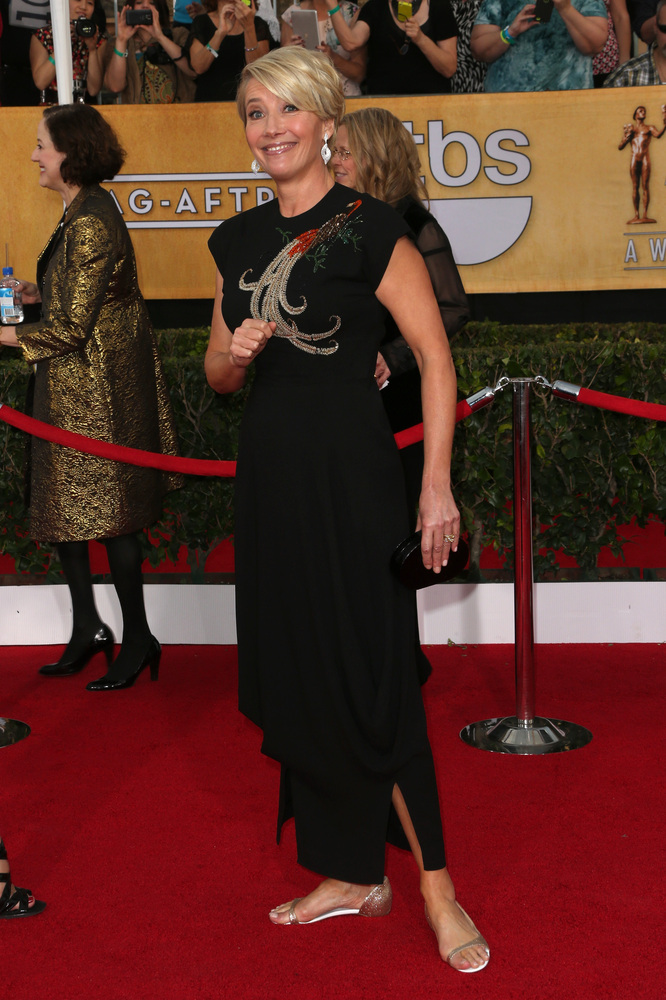 Emma Thompson
Well if you watched the Golden Globes, you'll understand that Emma Thompson seems to be having some kind of mid-age fashion crisis, tossing off her shoes, drinking on stage.....I actually thought she was just drunk, and judging from this outfit, she probably still is.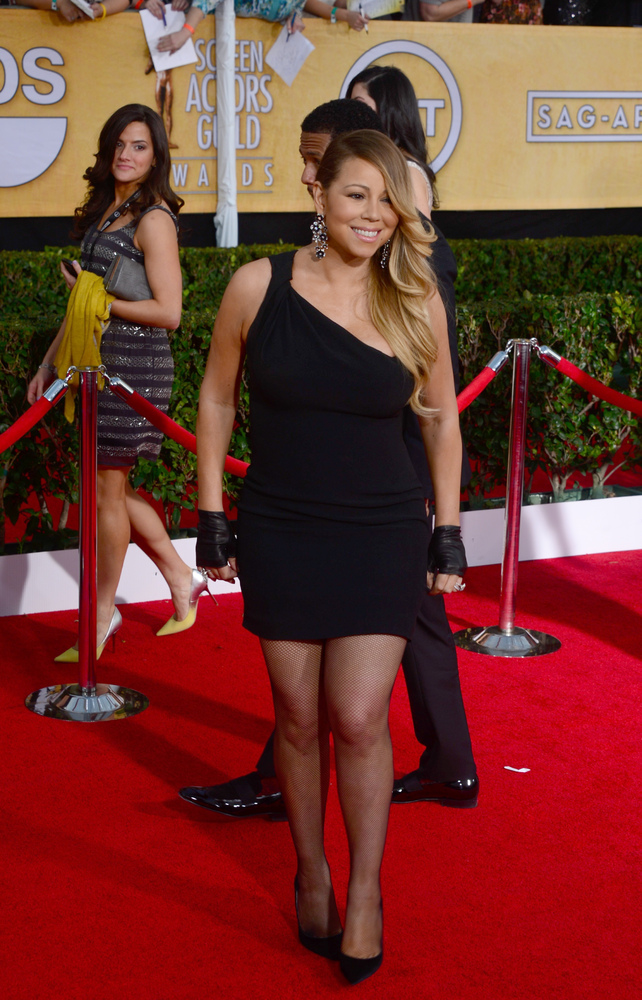 Mariah Carey
Mariah suffers from that syndrome my friends and I laugh about, the one where when certain people look in the mirror, they see something completely different. In Mariah's case, it's her 19 year old self.
Seriously Mariah, you are too old, too fat and too unsexy for this outfit!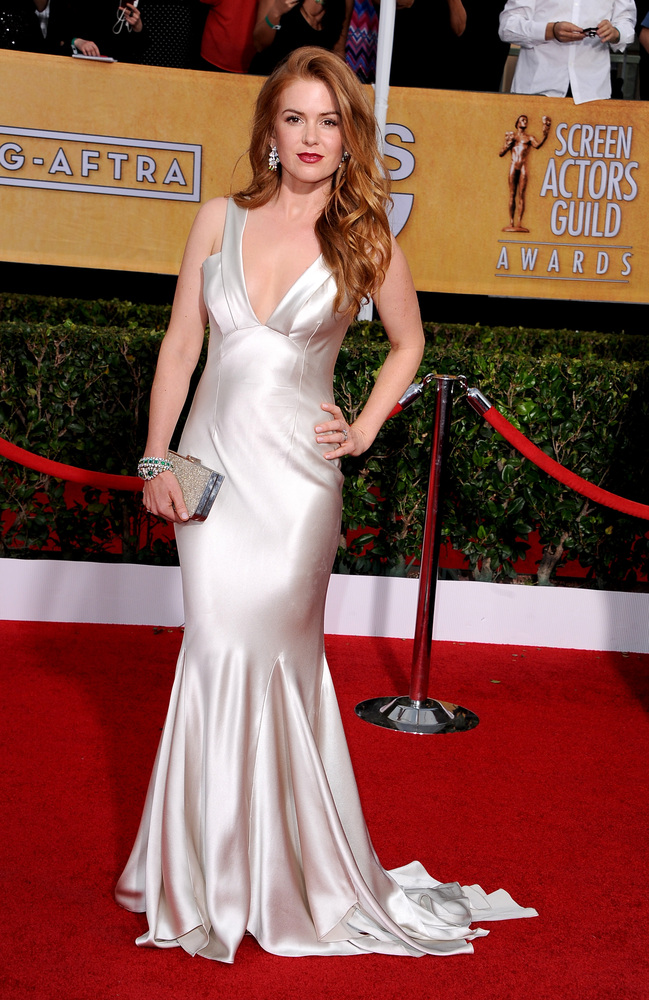 Isla Fischer in Bulgari.
I'm thinking Isla Fischer (totally unrecognisable I must add) is going for that old hollywood siren look, but somehow it's not working. The dress does look like a night gown doesnt it?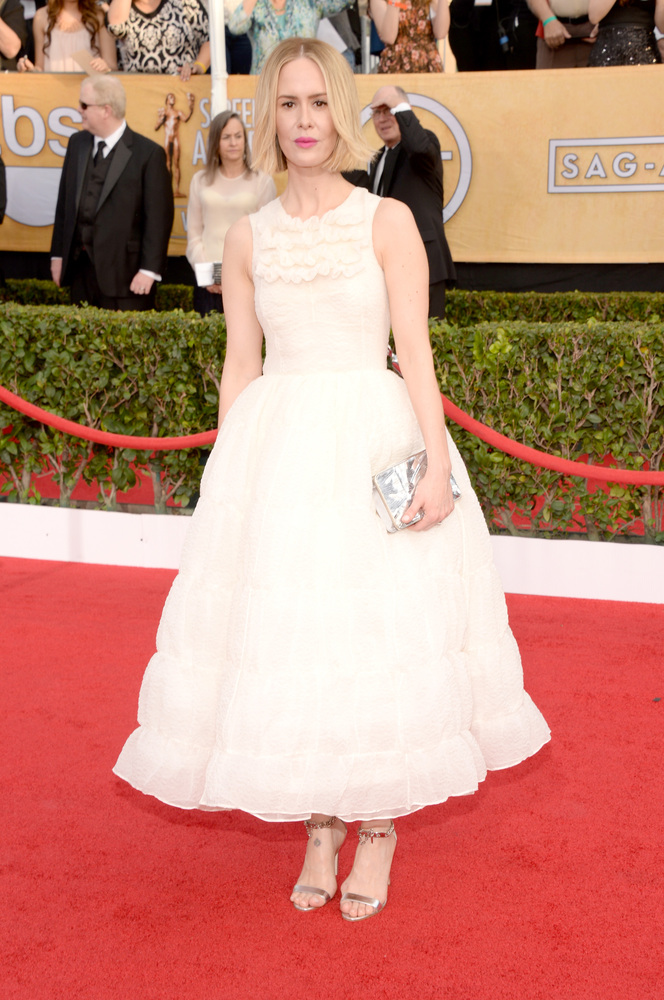 Sarah Paulson
She looks like little miss muffet, looking for her bonnet!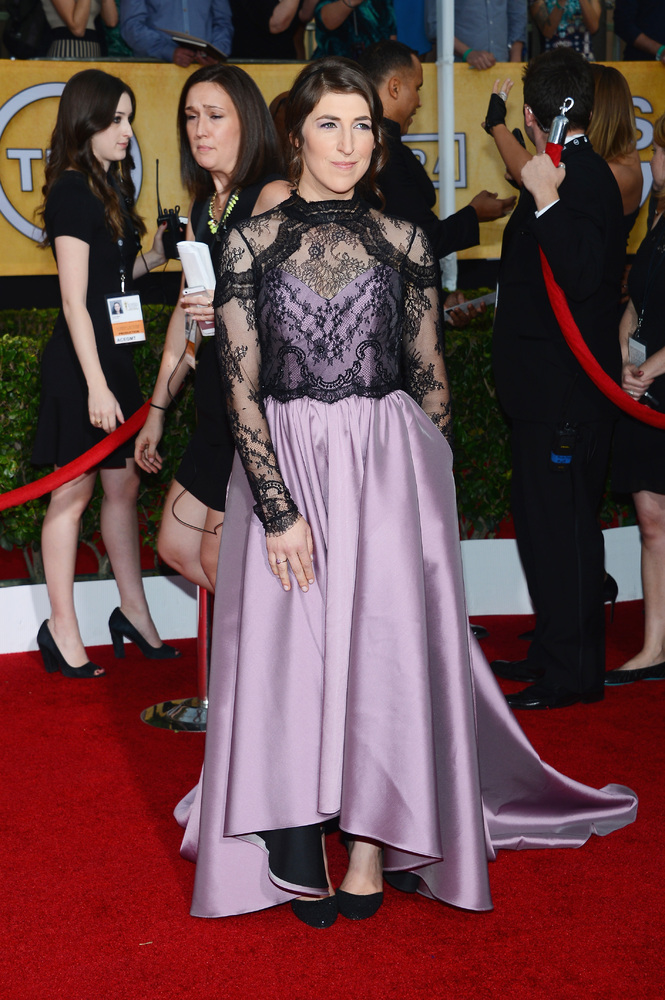 Mayim Bialik
I'm such a fan of Mayim, I could almost forgive her for this atrocity.............almost!
Kelly Osbourne in Zac Posen
To quote kelly herself, this Zac Posen dress is quite nice but all wrong for kelly. First she looks quite frumpy in it, and her arms are too fat and not toned enough for this dress.
Second the hair!!! You forget how ridiculous that colour is until you see her in something classy like this.
Third, the make up isn't very good either and what is that on her left fingers? a finger bracelet?
Her nails are nice though.